Trailblazers rejoice.
From taking in the fresh lake air to exploring across state lines, Glacier Hills is your premier Boat & RV loan destination in Wisconsin! Blaze a new trail this summer with amazing rates, incredible terms, and no payments for 90 days². You read that correctly. Imagine pulling away from the dock or helping them make their first s'mores knowing you won't need to make your first loan payment for 90 days². Now, you can focus on what's ahead of you: unforgettable adventure.
Apply for a Boat/RV loan
Looking to free up some cash? Refinance your current Boat or RV loan from another lender with us. We'll give you a terrific rate and that same no-pay for 90 days² offer still applies!
Refinance with us
Rates as low as 2.74% APR¹
90 days of no payments²
Your odyssey begins right here with:
Extended terms up to 180 months¹
No payment for 90 days²
Affordable payments
Great fixed rates

Looking for a long-term escape?
Start planning today with incredible rates and terms:
4.49% APR¹
120-month term
4.74% APR¹
180-month term
Ready to reach your horizons?
Apply for a Boat/RV Loan now
Want to get started by phone instead?
We have loan officers available 24/7, 363 days per year at (262) 338-7777.

Choose your path.
Life is full of forks in the road. Regardless of which path you take, you'll have a trusted financial partner who has been in the community for more than 88 years. With Glacier Hills, you gain access to our incredible rates, personal service and network of over 5,000+ shared branches and surcharge-free ATMs across the country. The journey is what you make it.
Own your journey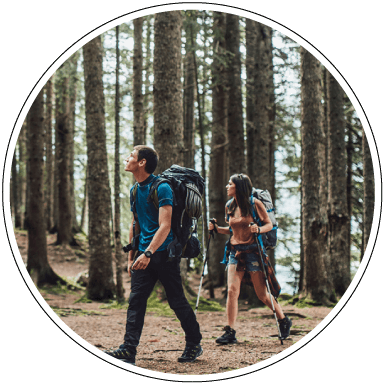 Members get even more with Glacier Rewards.
Learn more
¹
APR=Annual Percentage Rate. All rates subject to change without notice and based on credit. Boat, RV and Travel Trailers of $25,000 qualify for 96-180 month terms. Other rates and terms available. Payment examples for $1,000 borrowed: 60 at 2.74% = $17.85, 72 at 2.74% = $15.08, 84 at 2.99% = $13.21, 96 at 4.24% = $12.30; 120 at 4.49% = $10.36; 180 at = 4.74% = $7.77. Member eligibility is required.
²
Approval is subject to credit criteria. Interest will begin accruing at the time of loan.